NiftyKitchen.com Gift Shop

See selections of Tableware, Cookware, Appliances, Cutlery, and much more, for those perfect gifts for the home cook
and friends and relatives who love to entertain. We've chosen the newest, hottest, and classic kitchenware items,
some available in other NiftyKtichen.com departments and shop, and some that can only be found here.
Calphalon's Precision Space-Saving Self-sharpening Knives
maximize counter top space while keeping your knives within easy reach. Made from walnut-stained hardwood, this slender block design features SharpIN Technology with built-in sharpeners to keep knives performing at their best every time. Knives are crafted from durable steel with a fully forged blade, bolster and tang. Each knife handle is labeled for quick identification in the knife block.
Space-saving block design
Built-in ceramic sharpeners
Knives feature labeled handles
Full-tang design
Full lifetime warranty
Set includes:
8" Chef's Knife
6" Santoku Knife
4.5" Paring Knife
6" Serrated Utility Knife
Four Steak Knives
Kitchen Shears
Space-saving Knife-sharpening Block
Compare at $299.99, Our Price Only $183.95 and Shipping is FREE!
The Taste Trunk

Gourmet-quality gifts for the home chef from Taste Trunk! Each trunk comes gift packaged and ready to send and every product comes with chef-inspired recipes printed on easy-to-use cards. Personalize them with a free custom gift card and choose your delivery date.


The Gourmet Taste Trunk
Created around the idea of a dinner party, with items included for three courses, including:
Maison de Monaco Peach and Lavender Jam
Himalayan Pink Salt
Cucina & Amore Artichoke Bruschetta
Bella Rustico Crostini
Herbs de Province
Chateau White Garlic Marinade
Gourmet Poultry Seasoning
$59.00
BBQ Taste Trunk
It will be time to light the coals and start the BBQ with this epic collection of grilling goodies:
1849 Thick & Rich BBQ Sauce
Lazy Kettle Liquid Smoke
Steak & Chop Rub
Hickory Smoked BBQ Rub
San Francisco Seafood Rub
Cherrywood Smoked Sea Salt
Cedar Wood Cooking Plank
$55.00
World Market Folding Cheese Board and Tool Set
Cheese lovers will love equally the clever design of this cheese board with included cheese tool set, that folds away to some mysterious place, out of sight, out of mind, until it's time to use the tools on your cheeses of choice.
Strategically-placed magnets keep the board closed and the tools stored right where they belong
Convenient to take along to parties, camping trips or picnics, the beach, the mountains, or just in the back yard
All included: 11"x 8.5" x 1.5" folding rubberwood cutting board, stainless steel hard cheese knife, cheese shaver, cheese fork and pointed-tip cheese slicing knife
Overall size when closed: 12.25" W x 12.25" D x 3.5" H
$39.99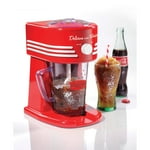 Coca-Cola Frozen
Beverage Station
Make perfect slush drinks, margaritas, daiquiris, smoothies and more with Coca-Cola's Frozen Beverage Maker.
Two ice-shaving options allow you to choose a fine- or coarse-shaved ice texture
Can also be used to shave frozen fruit or flavored ice cubes
Convenient 'Liquid' and 'Shaved Ice' level lines for small or large servings
BPA-free pitcher
40-oz pitcher capacity
$39.89
Capresso CM300 Programmable Thermal Coffee Maker
For your morning coffee, wouldn't you like to rely on the coffee maker that has been rated Number 1 on the list of 10 Best Coffee Makers On The Market by Business Insider? Well you can, with the No. 1 Capresso CM300 Programmable Thermal Coffee Maker. Some of the many great features include:
Removable 50 oz. water tank makes filling the CM300 with fresh water super easy and convenient
24 hour programmable clock/timer
10 Cup stainless steel thermal serving carafe
No more wasting money on throw-away filters: Permanent GoldTone filter is included
Water level indicator
Push button swing out filter
Special setting for 3 to 5 cups
$79.99 and FREE Shipping!
Staub Burnt Orange Pumpkin Cocotte
The recipient of the Staub Burnt Orange Pumpkin Cocotte will not just use it in the fall at "Harvest" time (you know, Halloween and Thanksgiving) but all year round, for stews, roasts, braises and more.
Exceptional heat transfer as enameled cast iron retains and distributes heat evenly and efficiently
Staub cocottes are designed to concentrate flavorful juices, making them ideal for cooking roasts and stews or simmering a variety of seasonal soup
Durable matte-enamel finish won't discolor, scratch, rust or chip and is ready to use as no seasoning is required
Extra-heavy lid seals in moisture for tender, flavorful results
Attractive pumpkin design makes a beautiful centerpiece for any harvest feast and is the perfect serving dish for seasonal soups and stews
3-½ quart capacity
Smooth ceramic base is suitable for all heat sources, including induction
Oven safe to 500°F
Lifetime warranty
Compare at $400.00, Our Price Only $179.96 and FREE Shipping!
Sousvide Supreme Oven
"Food of incomparable taste and texture" - that is what the revolutionary Sousvide Supreme Oven brings to the kitchen.
The Sousvide Supreme is the world's first water oven designed specifically to bring the gourmet sous vide cooking method into home kitchens
Sous Vide cooking locks in the flavor and preserves the nutritional quality of whatever food is cooked
NO risk of overcooking
Vacuum-sealed bags lock in flavor and preserve nutritional quality
Precise temperature control and slow-cooking times consistently produce perfect meals
Hands-off, time-saving meal preparation. Just set it and walk away
Easy clean-up with o messy pots and pans, just empty and wipe down the interior with a soft cloth
Energy-efficient operation - it uses energy equivalent to a 60 W light bulb
Tenderizes inexpensive cuts of meat
Cool touch housing
Push button simplicity
Precise temperature control to 1º F
Quiet operation
$429.00 and FREE Shipping!
Blendtec Classic 575 Blender
Blendtec has combined commercial grade power and incredible versatility to create the Classic 575 Blender.
The ultimate all-in-one appliance. Preprogrammed cycles make it easier than ever to create smoothies, salsas, hot soups, and more.
5 incremental speeds + Pulse
Illuminated LCD timer displays remaining time on blends
Preprogrammed cycles: Smoothie, Clean, 60-seconds, 90-seconds
Touchpad interface for easy cleaning
Classic 575 motor base
BPA-free jar with vented Gripper™ lid
8 Year Warranty
$399.91
Beville Smart Scoop Ice Cream Maker, Model BCI600XL
From Breville, the easy to use Smart Scoop Ice Cream Maker, Model BCI600XL is the first ice cream maker that automatically senses the hardness of the mixture based on your selection and keeps it ready until it's time to serve. Additional Features include:
Choose between manual or fully automatic functionality
Select from twelve hardness settings to find your ideal consistency for sorbet, frozen yogurt, gelato or ice cream
Easily add your favorite mix-ins through the flip-back lid - indicator lets you know the right time to add
Compare at $545.00, Our Price Only $399.95 and FREE Shipping!
Scanpan CTQ 10-Piece Cookware Set
Handcrafted in Denmark, Scanpan CTQ features five-layer clad-aluminum construction with brushed stainless steel exterior and comes with a lifetime guarantee. Unlike other nonstick cookware, Scanpan's patented ceramic titanium nonstick interior can be used for browning, searing and deglazing, won't scratch or warp, and is safe for the dishwasher and for use with metal utensils. Set includes:
8" Skillet
10.25" Skillet
2-Quart Saucepan with Lid
2.75-Quart Saucepan with Lid
10.25" Saute Pan with Lid
7.5-Quart Dutch Oven with Lid
Compare at $1,679.00, Our Price Only $719.96
and FREE Shipping!
From the Royal Albert
Tea Party Collection
The Royal Albert Tea Party Collection features three-piece Tea Sets from the Old Country Roses pattern, the best-selling dinnerware pattern in the world, and many other classic Royal Albert patterns. Old Country Roses and other enduring Royal Albert patterns are long-standing testaments to timeless style and elegant craftsmanship. Their 3-Piece Tea Sets feature a Teapot, Sugar Bowl and Cream Jug.



Old Country Roses
3-Piece Tea Set
Compare at $400.00, Our Price Only $119.99



New Country Roses White
3-Piece Tea Set
Compare at $215.00, Our Price Only $149.99



New Country Roses White 3-Piece Tea Place Setting
Compare at $76.00, Our Price Only $52.99



New Country Roses Pink
3-Piece Tea Set
Compare at $215.00, Our Price Only $149.99



New Country Roses Pink Vintage 3-Piece Tea Place Setting
Compare at $76.00, Our Price Only $52.99

See the complete
Royal Albert Tea Party Collection
WMF SmarTea Teapot with Warmer
From the traditional above to the modern shown here: WMF's SmarTea Teapot with Warmer features a stylish contemporary design and great functionality - a teapot on top with a warmer below.
Jug and handle made of heat resistant glass
Stainless steel lid, strainer and heater
24-oz jug capacity
Warmer can be lit with a candle
$119.95
Wolfgang Puck Pressure Oven
Leave it to Wolfgang Puck to revolutionize the concept of both the Pressure Cooker AND the oven, by combining the benefits of both, into the Wolfgang Puck Pressure Oven.
Lower pressure than a conventional pressure cooker, this pressure oven seals in heat and moisture, concentrates flavors and dramatically decreases cooking times
Flavor Infusion Technology™ creates a pressurized cooking environment that seals in heat and moisture and concentrates flavors
Five cooking methods: bake, broil, roast, toast and warm or reheat
Adjustable temperature settings
Integrated timer provide complete control - turns oven off when cooking is complete and keeps it warm until ready to serve
Large enough to cook a full-sized turkey
Easy-to-use lock makes it easy to set and release the seal
Release valve easily vents pressure when cooking is complete
Compare at $249.99
Our Price Only $114.99
Global 6-Piece Knife Block Set
Uniquely designed Global knives featuring a sleek, seamless design are constructed from a single piece of CROMOVA stainless steel to eliminate food traps and give you unmatched agility and are the choice for chefs around the world. Set Includes:
8" chef's knife
5-½" nakiri vegetable knife
4-¼" utility knife
6" serrated utility knife
3" paring knife
Bamboo and stainless-steel block
Compare at $645.00, Our Price Only $399.95 and FREE Shipping!

Food and Cooking Tips,
Legal Stuff and More